OnLine​Jones
Whilst I've had to update some other websites to keep up with the times, my website has been too out-of-date for way too long, so I've pulled most of it and replaced it with this holding page. From the first item you can link to pages with my latest animations. Further you'll find a wonderful video of my lockdown trip to the planet Mars, plus links to the Friends Institute Life Drawing, which runs every Tuesday from 6.30 to 9.30pm, and to some paintings by me old mate, Chris Murray.
ENJOY
You can contact me at dickj1@gmail.com
⇧ It started as a painting a long time ago. Click here to find out how it became an animation! ⇧

Where Has Your Bike Taken You During Lockdown? from OnLineJones on Vimeo.
---
I keep my drawing in shape with the Life Study group at the Friends Institute in the Moseley Road, Highgate, Birmingham.
We're an informal, untutored group who meet every Tuesday, and our numbers include everyone from practising Artists and Art Lecturers to hobbyists and absolute beginners; everbody's welcome.
We continue to run during holiday periods and we charge on a sessional basis (not by the term). Special rates are available for full time students on Art, Design or related subjects.
---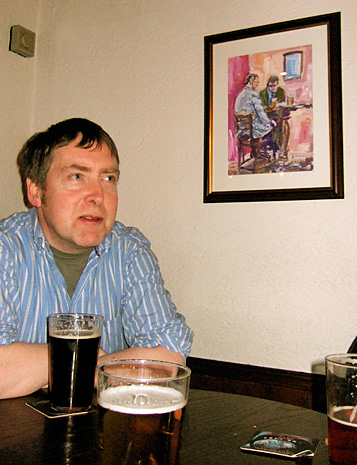 Chris Murray - local artist, known for painting mostly Jazz, landscape and pub scenes.