If you follow the Jazz scene in and around Birmingham and Bearwood you may well have seen Chris Murray painting and drawing the musicians. Chris has been painting for some years now and his work has developed, both in the materials he uses and the quality of the work he produces.
He mostly works in gouache at the moment, and much of the work follows Andy Hamilton & the Blue Notes and their gigs at Bearwood Corks Club, The Drum and the Symphony Hall Foyer Bar. There are also landscapes and views of Pub interiors. In fact he is pictured above having a pint at the Wellington pub in Birmingham below one of his Interiors which hangs on the wall there.
Chris generally aims to break even in his Artistic activities and his paintings can usually be bought at the gig gig for prices starting at £40. If that is out of your price bracket he also sells a range of quality photo-copy reproductions.
People have been asking where they can find Chris's wort on the web quite a lot of late, so we have built this site fairly quickly, and to get in as much of his recent work as possible, rather than spend forever on a scanner it has benn photographed fairly quickly mostly on barroom floors and tables.
---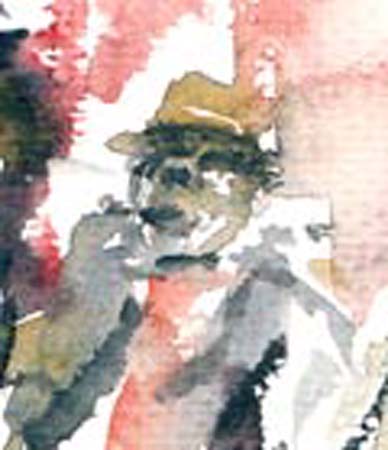 Before this site Chris had a small site on Geocities. However the site was a problem to update and Windows users had to put up with banner ads, so this site has been redesigned with upating in mind and relocated on OnLineJones webspace.
However you can still view it in our archive section. It contains some early work so you can see just how he's developed, and it goes back to when he painted this wonderful watercolour of Papa Saxa
---